1 Quennevais Parade
St. Brelade
Jersey JE3 8FX
Channel Islands
---
Contact Us
tel: (01534) 747 780
or   (01534) 888 380


 contact@dentalexcellence.je
Dental Treatments
COSMETIC DENTISTRY
Cosmetic dentistry is a method of professional oral care that focuses on improving the appearance  of your mouth, teeth and smile. And although cosmetic dentistry procedures are usually elective, rather than essential, some cases of treatment also provide restorative benefits.
The most common procedures used in cosmetic dentistry are fairly simple, whereas others are more complex and require specialised care.
Inlays and Onlays
These are known as indirect fillings, which are made by a dental laboratory, and they are used when a tooth has mild to moderate decay or there is not enough tooth structure to support a filling. Provided there is no damage to the tooth cusp the inlay is placed directly onto the tooth surface.
Composite Bonding
Composite bonding refers to the repair of decayed, damaged or discoloured tooth using material that resembles the colour of tooth enamel. Your dentist drills out the tooth decay and applies  the composite onto the tooth's surface, then "sculpts" it into the right shape before curing it with high intensity light. Also referred to as simply "bonding" this effectively covers the damage to the tooth and gives the appearance of a healthy tooth in its place. Bonding is one of the least expensive cosmetic dentistry procedures available to patients with tooth decay, chipped or cracked teeth and worn-down edges.
Dental Veneers
Typically manufactured from medical-grade ceramic, dental veneers are made individually for each patient to resemble one's natural teeth. They look exceptionally realistic and can resolve numerous cosmetic problems, ranging from crooked teeth, to cracked or damaged enamel to noticeable gaps between two teeth. The dentist applies the veneer to the front of each tooth using a a dental adhesive.
Teeth Whitening
One of the most basic cosmetic dentistry procedures, teeth whitening or teeth bleaching can be performed at your dental surgery. Whitening should occur after plaque, tartar and other debris are cleaned from the surface of each tooth, restoring their natural appearance. Teeth can also be bleached to achieve an even lighter shade than this original colour.
Implants
Dental implants are used to replace teeth after tooth loss. The dentist inserts a small titanium screw into the jaw at the site of the missing tooth,
which serves as a support for the crown. These implants are almost indistinguishable from the surrounding natural teeth, and once the bone and supporting tissue fuse to the implant, they are permanently secured into place.
More about Dental Treatments
Implants
What is a Dental Implant?

A Dental Implant is essentially a substitute for a natural tooth root. If you have good general health Dental Implants will almost certainly work for you. However habits such as heavy smoking and drinking or poor oral hygiene and bone loss can compromise the healing process and integration of the implant. Almost all Dental Implants today are made from Titanium or Titanium Alloy as these have shown to be the materials that are most compatible with natural bone, and are generally placed using sedation and local anaesthetic.
Implants can be used to replace just one or two missing teeth or even a whole jaw!  In this instance depending on the amount of implants we can place there are a number of restorative options available from a fixed bridge to an implant supported over-denture. This is like a removable bridge in that it is a permanent structure but can be easily removed for cleaning. Just one missing tooth would generally require no more than one crown.

The process of placing the implants and fitting the tooth structures generally takes between 3-6 months and with good well maintained implants that have been placed into adequate bone they can be expected to last many years and probably for your lifetime. Anyone considering implants will require a full consultation with the dentist including a complete examination with x-rays and a detailed medical history.
Laser Dentistry

If you consider yourself somewhat of an anxious dental patient and are seeking extreme safety and comfort, you might consider looking for a dentist who has incorporated laser dentistry techniques into their practices and treatments. Lars Alexandersson is the first dentist in Jersey and one of only 16 in the UK using the Waterlase MD™.
Our practice has seen an increased number of patients looking for a faster, more precise alternative to the traditional needle and drill. In a continuing effort to provide you with the best oral health care and advanced treatment option, our office is now performing many traditional dental procedures with the best dental laser system available – the revolutionary Waterlase MD™.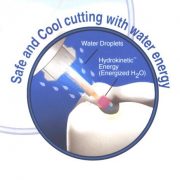 Unlike needle and drill dentistry, the Waterlase MD™ can perform many traditional dental procedures with fewer injections, less anaesthesia, and without pain. Waterlase uses a unique combination of laser energy and water to provide gentler, more precise treatment that conserves healthy tooth structure, and minimizes pain and discomfort. In addition, procedures that once took several appointments to complete, such as multiple fillings, can now be finished in just one visit.
If you have been avoiding the dentist for fear of the needle and drill, or just want a dental solution that is faster and more comfortable, stop delaying your dental treatment and schedule an appointment today.
Teeth Whitening

Your teeth may have become stained by tea, coffee, red wine and some foods. Teeth can become discoloured as we get older or small imperfections in the tooth can pick up stain over time. If this is the case one solution can be tooth whitening, this is the application of a gel which will lighten the natural colour of your teeth. However, any existing fillings, crowns or bridges will not whiten and if necessary can be replaced.
A home kit consists of a custom-made trays – an impression of your teeth is made and the laboratory create the clear soft plastic trays to which you apply the "active ingredient" (usually a hydrogen peroxide based gel.) This can be worn for a prescribed amount of time over a number of days. This will lighten the colour of your teeth and the trays can be used in the future to maintain the desired shade. Supplies of additional gel are available from our surgery.
To discuss the best way to whiten your smile please call us with any questions or to arrange an evaluation appointment.
Sedation
Here at Dental Excellence we offer sedation for patients who feel anxious or nervous. We want you to have peace of mind and feel comfortable. This is a very straightforward procedure done in the surgery by a qualified anesthetist, Dr Thillai, who has more than 35 years experience.
He has a very relaxed demeanor and we are sure you will be in safe hands. The cost for sedation is £ 165.00 – Please ask at reception if you would like to consider sedation.